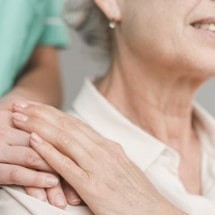 January 22, 2019
By: Dr. Abha Malik, Founder - PathSOS
A Breast Cancer Patient Story - PathSOS
When Mudit's mother was diagnosed with breast cancer, his mind went blank.
"My mind got muddled because everything happened so unexpectedly", he said.
Within days of a suspicious mass felt in the left breast by his mother in May 2018, she was scheduled for a stereotactic breast biopsy. The pathology report from that biopsy showed a breast cancer. It was breast cancer symptoms.
A week later, modified radical mastectomy was performed at one of the largest hospitals in Delhi.
All of a sudden, the family was in the hospitals almost 24/7. Appointments with surgeons, the oncologist, the radiation oncologist or breast cancer specialist, were scheduled and it was all too much.
The next appointment, post-surgery with Oncologists lined up to decide on the treatment. Mudit, being a tech-savvy educated professional had loads of questions and doubts about his mother's Breast Cancer Treatment that nobody was ready to answer. He searched on the internet, that led to even more doubts. But the doctors and oncologists even in the best hospitals in Delhi, somehow either did not have the time to clear his doubts or looked too unapproachable.
The first question veering into his mind was,
"Is the Diagnosis on the Pathology report of the biopsy specimen correct? Is it really cancer? IS IT REALLY TRUE?
The biopsy was reported at a leading lab, but that still did not satisfy him because he knew that an unbiased second opinion by another expert specialist pathologist should be sought to be sure about the diagnosis.
And then he got to know about PathSOS pathology Second Opinion Consultation Service, led by Dr. Abha Malik, an International Anatomical Pathologist and "Breast pathologist". He contacted them online through their website and was asked by the Representative to courier his mother's biopsy slides and blocks along with her previous reports.
Within a week they received a 'Second Opinion Diagnosis'; reported by a specialist breast pathologist who has decades of international experience in the field. The diagnosis of cancer was confirmed in the Second Opinion Consultation Report, but the grade of cancer was changed from Grade 2 to Grade 3, which is high-grade cancer. Also, a positive lymph node was identified upon review, which changed the stage of cancer.
This change in grading and staging of cancer completely changed the treatment options for his mother.
The treating oncologist appreciated the review and an unbiased opinion by PATHSOS experts and initiated the new treatment plan accordingly.
According to Mudit and his family, although the pain of going through cancer treatment is hard, they are glad that they took Second Opinion Pathology Consultation from PATHSOS because it gave them 'PEACE OF MIND' that they have done the best they could and ensured appropriate treatment selection and the chance of a cure.
Dr. Abha Malik, Medical Director PATHSOS, says "A breast cancer diagnosis is not a medical emergency," "Yes, it has urgency, but I tell my patients and their families that there's time to make a good decision. It's a decision that you're going to live with for the next 30 or 40 years."
Even if the second opinion is the same as the first, experts believe there is a benefit to getting it, especially since a breast cancer diagnosis carries with it so much stress and so much information.
Mudit's mother feels "PATHSOS has helped me understand my cancer better at the right time and if I could tell another woman what I learned, I would tell her not to be afraid to get a second opinion," she says. I am fortunate that I was in excellent hands at PATHSOS.
How to Get a Second Opinion from PATHSOS
1- Second-opinion can be availed online or from the comfort of your home
2- Call us at0124 4995078 or write at info@pathsos.net
3- Alternatively, you can fill out the online form
4- Simply courier your slides and blocks to us along with your reports
5- Our experts will review you slides and provide you a report online and through email within 5 days mostly.